This movie stands now was Top 1 in my horror movie list! Previously was MAMA, but this movie totally BEAT THAT yo! HAHA.
JENG JENG JENG....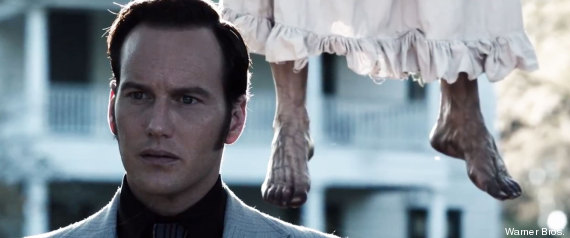 See all these picture also feel so spooky jorrrr~~~~~ @.@
So yeahhhh.. THE CONJURING!!! Before I went for this screening, all the feedback and comments that I got for this movie was.. scary.. spooky.. fear.. and so on...
And INDEED!!! It was yet a good horror movie! Thumbs up to the director,
JAMES WAN
. Something about Malaysia to be proud of I guess? :P
Difference between real life(left) and in movie(right)
Watch this video for the real interview with the Warrens @
HERE
!!! SPOOKYYY
I RATED THIS MOVIE 9/10 TOTALLY RECOMMENDED TO THOSE WHO REALLY LOVE HORROR MOVIES!!!! =D
This pretty little girl here (
Mackenzie Foy
) was one of the cast for this movie too. If you don't remember, she's the girl from Twilight Saga Breaking Dawn Part 2. "Renesmee???" *grinsss*
Haaaaa.. now you remember ;)
She's so pretty right.... =)
Watch the trailer below:
On the other hand, I've actually won movie passes for The Wolverine from Hitz.Fm as well! It's my first time winning tickets from Hitz.Fm though! Too bad both movie clashes that's why I gave it to this two fella down here:
HAHAHAHA. They look match don't they? LOLL :P
Oh and we got our new flippers too!! HEHEHE
So yeahh.. that's all about it. =D
R.I.P.D. (3D) is up next yo! And of course, "Groverine" aka Wolverine with G-Peeps on this Thursday! =D