Oh la la.... calling all beer lovers.. alcoholic people.. October is your month babeh!! You know why? Because it's time for OCTOBERFEST celebration!!! *drum-rollll* Yeahhh baby! Party and drink till you drop! HAHAHA.
This month, Guinness Anchor Berhad (GAB), the leading beer and stout company in Malaysia will be celebrating the iconic German Oktoberfest with an exciting consumer promotion that provides discerning beer drinkers with a

special edition 1 liter Ceramic Oktoberfest Mug

when they enjoy GAB's iconic brews!
Okay I'm just joking! Of course la the mug won't come with troll face! Are you not paying attention? I already mentioned it earlier on. lol. OCTOBERFEST MUGGGGG!!! So be sure to drop by at all th events early to reserve yours! I wanna get one too! Tee-heee :PPP
So throughout the month of October, drinkers can celebrate Oktoberfest with a series of themed parties across the country. Expect evenings of good food from around the world, great fun with exciting contests, promotions and activities and of course, GAB's selection of award-winning beers including Tiger, Guinness, Heineken and the official Paulaner Oktoberfest Bier, brewed exclusively for the Oktoberfest season.
So what is it all about Octoberfest? Here's a little history on how it all started:
This celebration initially began as a celebration of a royal Bavarian wedding of
Crown Prince Ludwig (who later became King Ludwig I) and Princess Therese of Saxe-Hildburghausen
on October 12th, 1810 has emerged into the world's largest beer festival.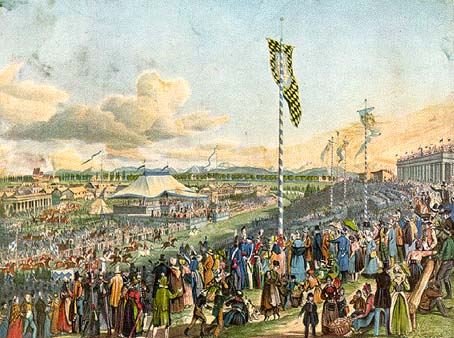 Through the years, Oktoberfest celebrations have had a number of different elements and activities, including horse races, street parades (in traditional costumes), live music, dancing and of course the appreciation of authentic Munich-brewed beer. *Yeah that's right.... Beer and beer and more beer :P*
Currently, Oktoberfest is a truly global celebration with almost 7 million visitors consuming over 7 million litres of beer and more than half a million chickens throughout the celebration (based on 2011 figures), which lasts between 16 – 18 days from the middle of September to the first Sunday of October.
For 2013, the Oktoberfest festival proper will run from 21 September 2013 to October 6 2013 – a total of 16 days of culture, cuisine and beers.
So what are you waiting for?
-This is a 48 hours sponsored post-